This past week my favorite thing has been to sign up and participate in virtual races.
Ten reasons to participate in a virtual race.
1- You have a lull in your race season.
2 - You don't like race day pressure.
3 - You prefer to run on your own time.
4 - You have a favorite course.
5 - Running for a good cause makes you happy.
6 - You aren't ready to commit to a race in reality.
7 - It's fun to be in the "running" for free stuff.
8 - You don't like to pay race fees (many virtual race are FREE).
9 - You like the commodore of bloggy world.
10 - You're in a rut and need some motivation...NOW.


I mentioned in my last post that I was in on
MCMMamma's
virtual race this weekend and so far so good. I almost had my 4 miler completed today but I stopped Mr. G for 2 passing vehicles when I had to cross a road and it didn't get started up again for a 1/2 mile. Ahhh! Should've just relied on the automatic pause but I was reluctant and paid the price. I think the automatic pause actually kicked on too which is what got things mixed up when I thought I had started the timer again. After I finished I ended up with an average pace of 7:06...OUCH! I can at least record it as a good tempo run but to have all that effort go uncounted was rough. I'm going to complete the 8.25 mile race tomorrow and then go for the 4 miler again Tuesday. Note to self...Automatic pause is my
friend
.
Here's another virtual race I wanted to give a shout-out to.
She has a child with Joubert Syndrome and is trying to spread awareness. One way is by hosting an upcoming virtual race "running" from Oct.3 - Oct 10. Click on the button below for complete info then click on the above link to enter.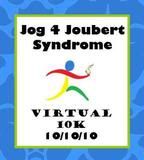 Oh, and if you heard it here first, would you mind letting her know I sent you. Thanks and enjoy the race!

P.S. In the future, when I come across additional virtual races I'll pass on the word so you can get in on it. Or if you do a little blog stalking yourself in the running community you may find some too so be sure to let me know!